Working Technology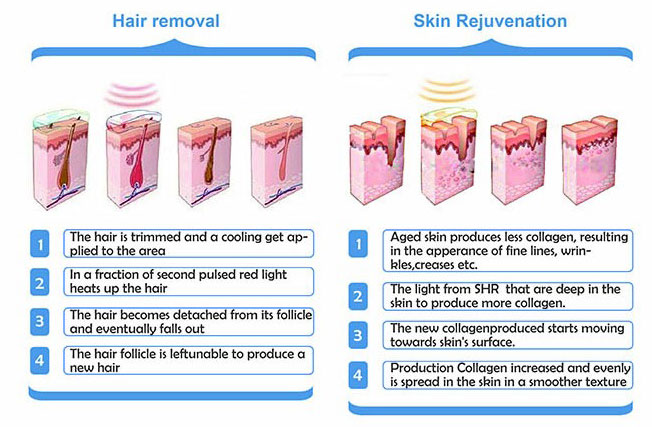 System Characteristics
1. SHR machine works with single pulse mode can emit energy averagely. While IPL machine works with multipulse mode which focus energy on first pulse, which is very easy to burn patients.
2. SHR filtered violet light and infrared light, which will eradiate and absorb water from target skin. So SHR does not have any side-effect to body.
3. Identified function makes operation simple, and makes treatment safely!
4. Bigger frequency (from 1 to 10Hz) used in SHR machine, which accelerate operation speed and save a lot of treatment time. It is 5-8 times faster than the normal E-light.
5. Stationary technology & In-motion technology. SHR means that moving IPL can use less time to do treatment on back, leg and arm.
6. OPT (Optimal Pulse Technology) Core Technology, once OPT treatment equivalent to 2-3 times the traditional technical treatment.
Treatment Range
Technical Specifications
430nm/510nm/560nm/640nm/690nm(530nm/580nm/750nm optional)

Wind + water +semiconductor cooling

1500

W(AC220V/

7

A, AC110V/

14

A)







Before and After Treatment