Working Principle

The ideal temperature from -5℃ to -11℃ which can induce adipocyte apoptosis is cooling energy to achieve non-invasive and powerful lipid-lowering.Different from adipocyte necrosis, adipocyte apoptosis is a natural form of cell death. It's to maintain the stability of the internal environment. Cells die in an autonomous and orderly manner, thereby effectively reducing fat cells without causing damage to surrounding tissues.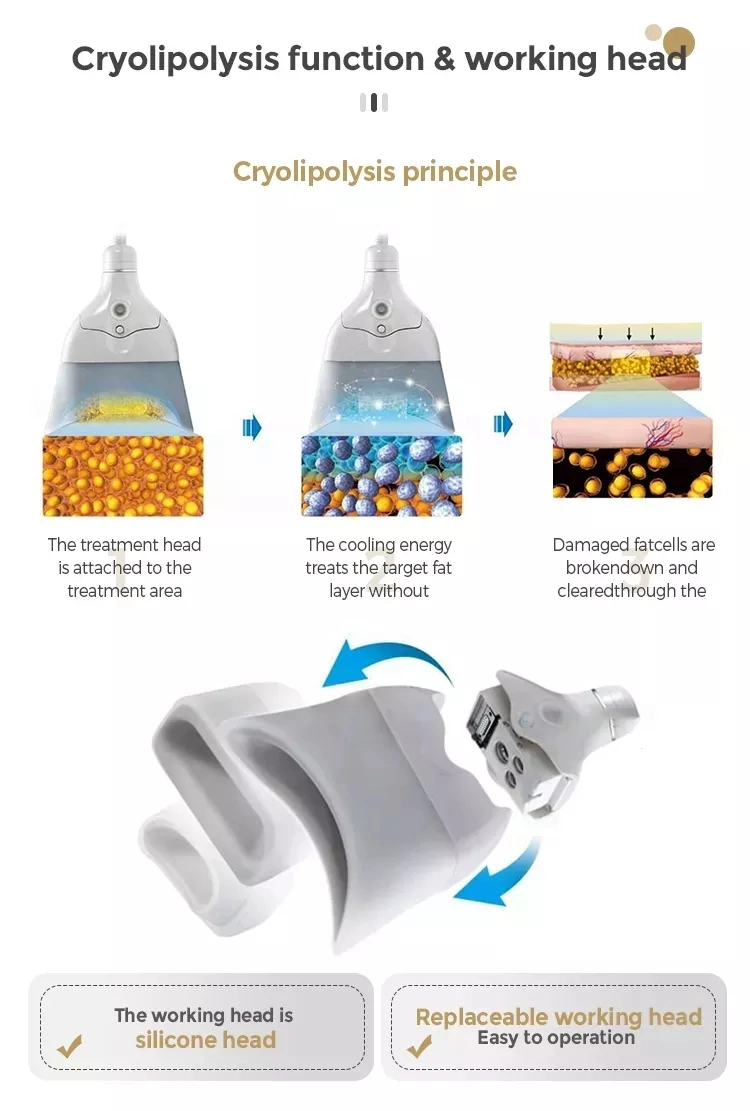 Treatment handle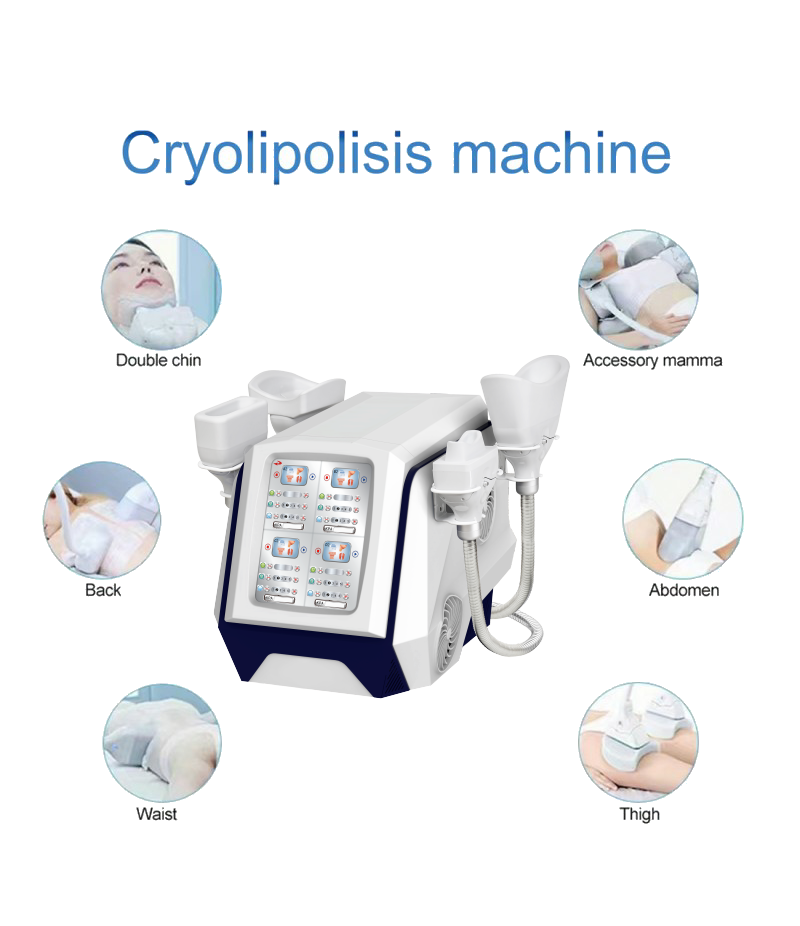 It's equipped with six replaceable semiconductor silicone probes. The treatment heads of different shapes and sizes are flexible and ergonomic, so as to adapt to the body contour treatment and are designed to treat double chin, arms, abdomen, side waist, buttocks (under hips). Banana), fat accumulation in thighs and other parts. The instrument is equipped with four handles to work independently or synchronously. When the probe is placed on the skin surface of a selected area on the human body, the probe's built-in vacuum negative pressure technology will capture the subcutaneous tissue of the selected area.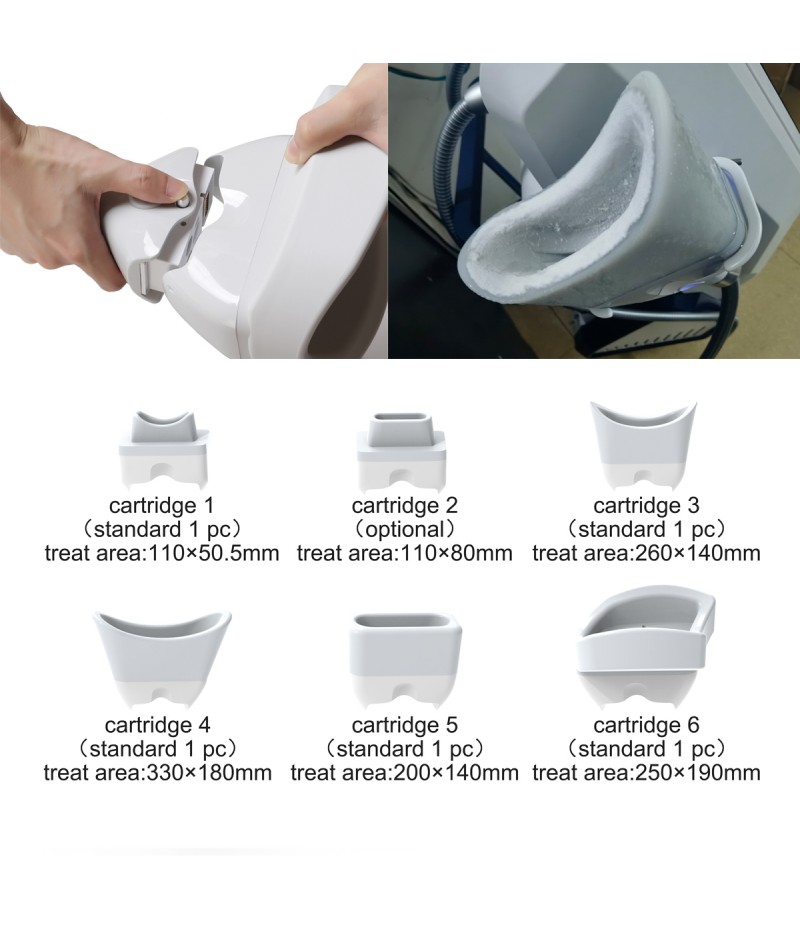 Advantage and features
1. Double-channel refrigeration grease, four handles and four heads can work at the same time or independently, which is convenient and saves treatment time.
2. One 'press' and one 'install' probes are easy to replace, plug-and-play plug-in probes, safe and simple.
3. 360-degree refrigeration without dead corners, larger treatment area, and full-scale freezing locally has a higher slimming effect.
4. Safe natural therapy: Controllable low-temperature cooling energy causes fat cell apoptosis in a non-invasive manner, does not damage surrounding tissues, reduces excess fat cells, and safely achieves a natural course of slimming and shaping.
5. Heating mode: A 3-minute heating stage can be selectively performed before cooling to accelerate local blood circulation.
6. Equipped with a special antifreeze film to protect the skin. Avoid frostbite and protect the subcutaneous organs.
7. The five-stage negative pressure intensity is controllable, the comfort is improved, and the treatment discomfort is effectively reduced.
8. No recovery period: Apoptosis allows fat cells to undergo a natural death process.
9. The probe is made of soft medical silicone material, which is safe, colorless and odorless, and has a soft and comfortable touch.
10. According to the connection of each cooling probe, the system will automatically identify the treatment site of each probe.
11. The built-in temperature sensor ensures the safety of temperature control; the instrument comes with automatic detection of water flow and water temperature to ensure the safety of the water system.
Various professional probes, perfect for body contouring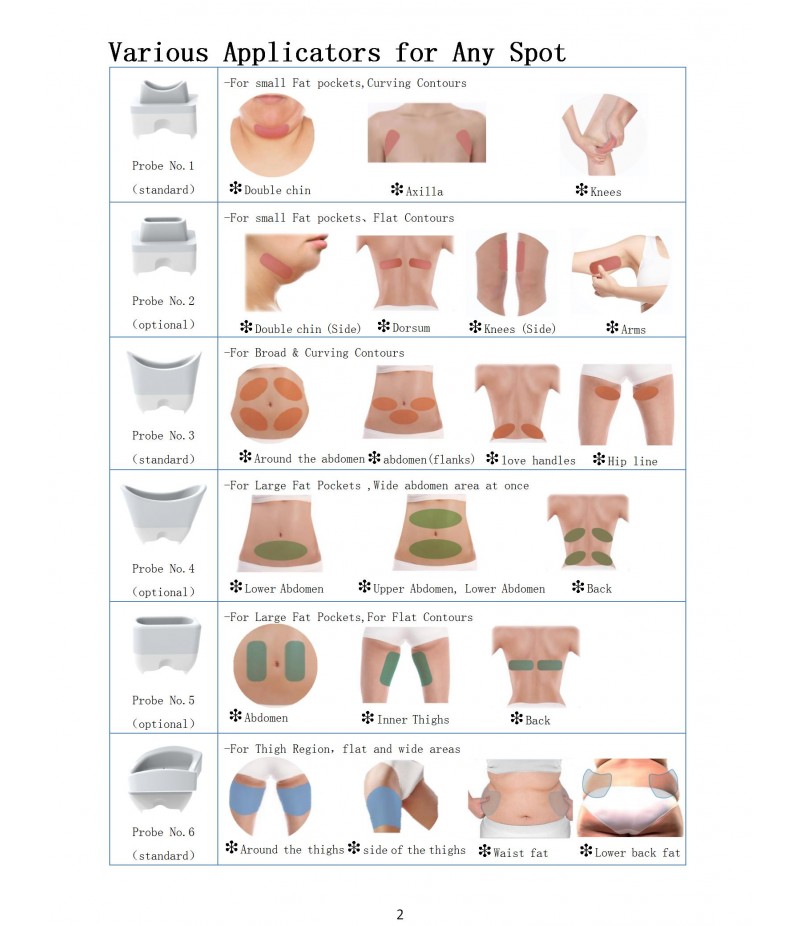 Technical specification
| | |
| --- | --- |
| Display Screen | 10.4 inch large LCD touch screen |
| Cooling Temperature | 1-5 gears (cooling temperature 1 to - 11℃) |
| Heating Temperature | 0-4 gears (preheating for 3 minutes, heating temperature 37 to 45 ℃) |
| Vacuum Suction | 1-5 gears (10-50Kpa) |
| Setting Time | 1-99min (default 60min) |
| Input Voltage | AC 110V/220V, 50-60Hz |
| Output Power | 1000W |
Before & After