Working Theory:

Cryo is a new non-invasive way to gently and effectively reduce fat in targeted areas of the body.
As triglyceride in fats will be converted into solid in particular low temperatures, it uses advanced cooling technology to selectively target fat bulges and eliminate fat cells through a gradual process that does not harm the surrounding tissues, reduce unwanted fat.
A number of methods have been attempted for lipolysis including the use of laser, ultrasound, and radiofrequency electric current, since cryo was developed appling cooling to tissue, was approved as the most effective way to fat reduction.
This revolutionary new idea of dissolving fat, which is approved as an important technology progress in fat reduction since it is put into use.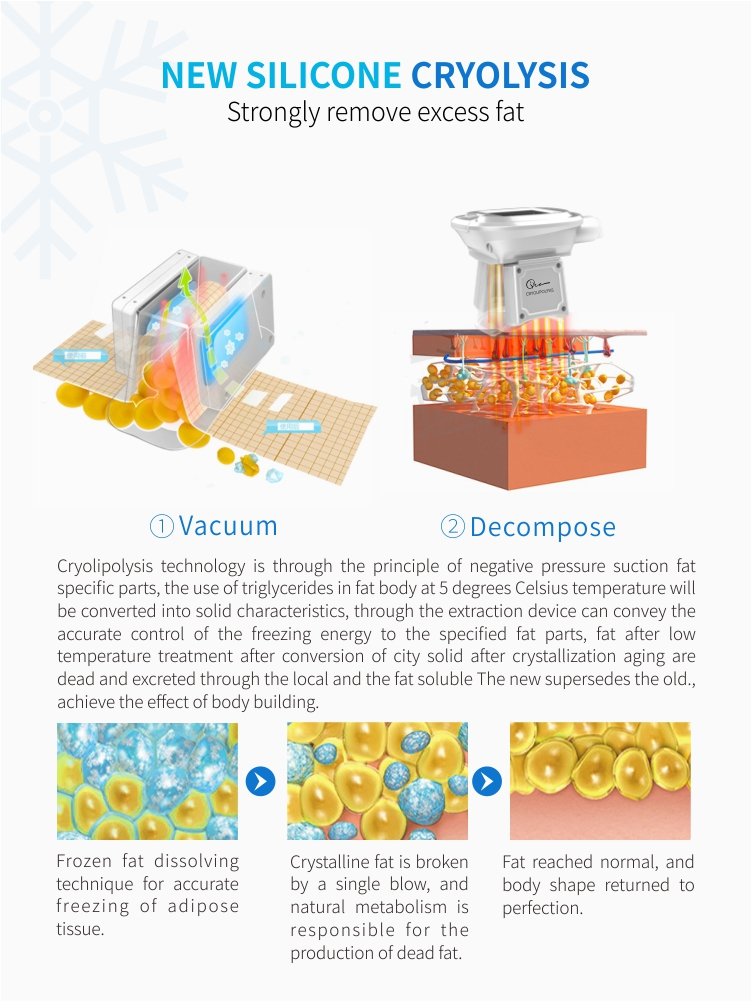 Cryolipolyse head (Temperature: 5 °C~ -12 °C):
The use of non-invasive method of operation, accurate transmission of "frozen" to the body fat accumulation position, targeted to eliminate stubborn fat cells. It is noted that adipocytes are more susceptible to freezing than other surrounding tissues, adipocytes are solidified and decomposed at 4 degree Celsius, and other cells near the fat cells die at zero and can safely eliminate fat cells that do not damage the skin and adipocytes around the tissue.
Technical characteristics:
1. 8 inch colorized touch screen control, simulation modeling of dynamic 3D interface, human-computer interaction design unique,
simple and convenient operation.

2. The utility model has the advantages of comfort and labor saving, convenient operation and exquisite appearance, according to the
design of human engineering.

3. Patent design of separation technology, through the warm-up of the skin before the refrigeration can effectively prevent the
skin in a long time below 5 degrees Celsius.

4. Exclusive development of freezing point reduction and surface active dosage form cool pad, can effectively prevent frostbite.

5. .Automatic water adding and monitoring function, the air pressure in the comb passage can be filled with water tank and hand
channel at one time.

6. Automatic cleaning and monitoring function to effectively clean the sediment of the hand pipe and protect the core components of
the gas path to avoid damage.

7. The omnibearing stereoscopic intelligent monitoring system can monitor the water level, the coolant flow rate, the liquid level
of the cooling system, the filter level and the air pressure of the two channel hand system in real time.
8. Intelligent alarm system, through monitoring the system feedback data processing, analysis and processing, quickly and
effectively respond to the abnormal situation to ensure the normal operation of the whole system.
9. Super intelligent instrument self inspection system, whether the core components of the monitoring system is in the normal state
or how many deviations from the factory are in order to ensure that the instrument is in good condition.
Advantages:
1. 1 pcs 150# cryo handle and 1 pcs double chin handle.
2. Reheat function to avoid being frozen.
3. Sort silicon cup for handle, comfortable for users.

4. Automatic cleaning and self-check system, easy to operate.
5. Optional handle optional for whole body treatment.
6. Lowest temperature comfortable cooling treatment.
7. No need recovery no downtime,Immediately resume work.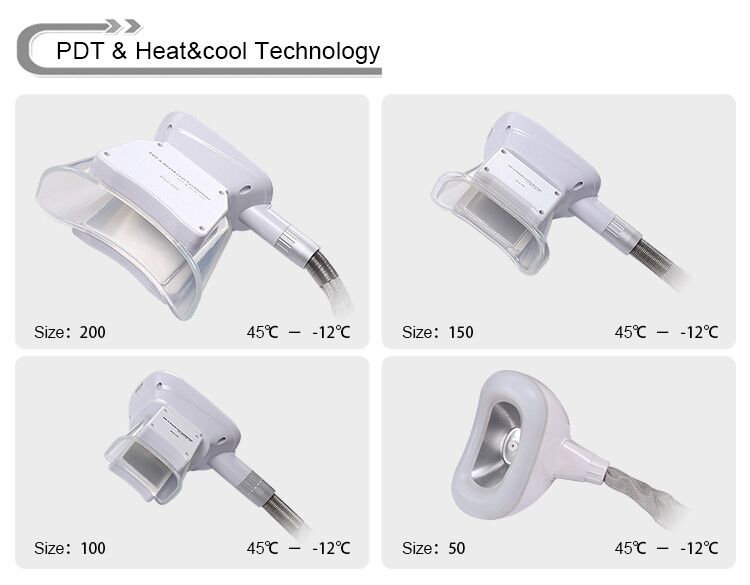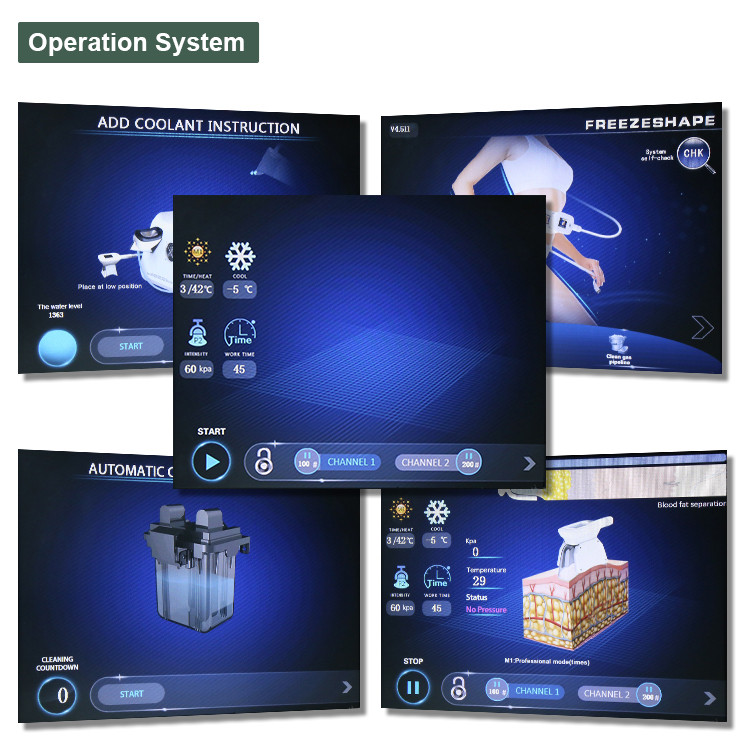 Comparison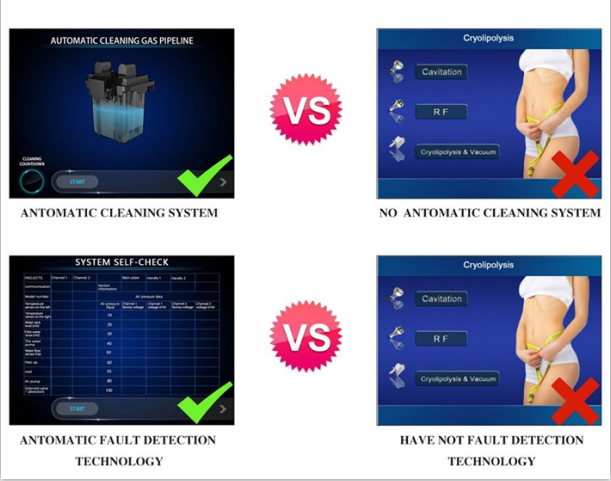 Treatment Result